Our office painting 'Chevrons to 70' by local Artist Mark Duggan has won the first prize in the inaugural Hallifax Emerging Art Award. You bet that we are all pretty stoked. Congratulations to Mark from the ViaStrada team.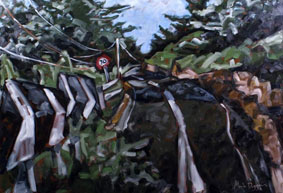 Emerging artist Mark Duggan from Christchurch has won the first prize in the inaugural Hallifax Emerging Art Award, announced at a gala event at the Hotel Grand Chancellor in Christchurch on Wednesday 27 June 2007.

Hon Jim Anderton was on hand to give out the prizes to the winning artists after speaking about the importance of creativity in business. Jim Anderton further stated that "Every creative business successfully selling to the world promises a more secure future for the region." For Hallifax, it was important to celebrate their fifty successful years in business by launching the art award to give something back to the artists and craftspeople whose designs have been a vital part of their souvenir products over the years.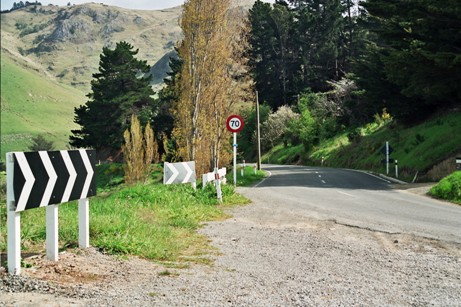 Mark Duggan received the grand prize of $4000 for his painting "Chevrons to 70", a constructed image of the road to Cass Bay, which captured something of the unique spirit of New Zealand. As Mark said, "My concept for the work is a journey through our best asset; our landscape. The composition leads the eye on a journey through the painting to an unknown destination. Common New Zealand features such as Chevron Boards and the speed sign all pull the viewer into wondering 'what is around the corner?" Mark currently works as CAD draughtsman in Christchurch but would ideally love to be able to work on his art full time and said that winning the Hallifax Emerging Art Award is an excellent stepping stone for his art career.
Warren Feeney, director of the COCA gallery, was one of the judges of the award and stated that "Chevrons to 70" was another great work in the New Zealand tradition of paintings of the road, a trail blazed by William Sutton and Rata Lovell Smith.
In the fortnight prior to the prize giving, the 10 finalists were exhibited. The exhibition was unusual in that it was not a requirement that the submitted work be for sale. And that's good, because it's not for sale at all. Sorry, you art lovers out there!