In September 2001, Andrew Macbeth (then based at MWH) presented a paper to the New Zealand Cycling Conference, based on a project commissioned by Transit New Zealand's Dunedin office. The paper was presented jointly with Simon Underwood of Transit NZ.
The project was to evaluate the safety of two cycle lanes Transit NZ had installed in March 2001, on Cumberland Street and Great King Street, part of State Highway 1 through central Dunedin. The lanes are used by University of Otago students and commuters to Dunedin's central city area, amongst others. These were the first cycle lanes installed on State Highways in Dunedin.
The primary motivation for installing cycle lanes was the safety of cyclists, who stood out as vulnerable road users in both intersection and mid-block situations.  While there are alternative routes available, the one-way pair is attractive for cyclists due to its directness, its connectivity with other routes, its proximity to the University of Otago and its physical attributes (for example, its flat grade, generally smooth surface and good level of street lighting).

A post-implementation safety audit of the facilities was undertaken at the request of Transit.  It gave strong support for the cycle lanes, particularly where innovative approaches were taken with pavement markings.  The audit identified a number of details of the cycle lanes where installation varied from current practice elsewhere in New Zealand.  These variations typically resulted in well-designed and effective cycle facilities, indicating that cycle lane design is still an evolving art in New Zealand, and that there is still room for innovation.  Some recommendations in the audit related to adjustments which could be made to improve the safety and effectiveness of the lanes. In addition, the audit recommended the review of various national standards and procedures for roads and cycling facilities.
The full paper and presentation are available on our website.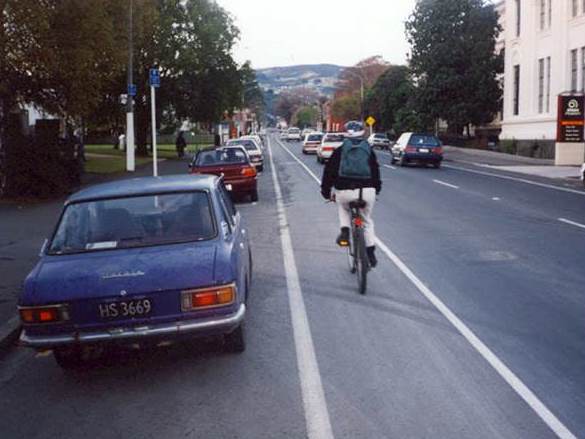 Where presented/published
New Zealand Cycling Conference, September 2001