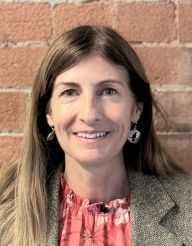 Role
Marketing Manager & Information Designer
Mobile Phone
021 0259 3977
Contact Email
debbie@viastrada.nz
Biography
Debbie is our Marketing Manager and Information Designer, joining the ViaStrada team in April 2022.
Debbie is Christchurch born and raised.  Debbie's career has taken a winding path, from studying Interior Design and then heading overseas where she worked in a variety of admin and bar roles between travels. She most recently worked as the Operations Manager with Canterbury Tech. Prior to this, she held roles in events management and marketing, venue management, administration support for various companies and not-for-profit organisations. She also worked for several years in destination marketing to help bring business events to Christchurch and Canterbury.
Outside of work, Debbie spends a large amount of her time on family admin and running around after two busy teenagers! She enjoys spending time with family and friends, walking for fitness and pleasure, camping, and when time allows, a bit of gardening and reading. She loves to travel and experience new places, cultures, and food.