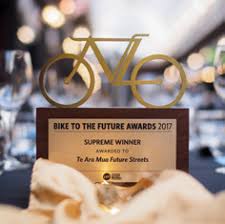 ViaStrada is proud to be nominated in two categories in this year's Bike to the Future Awards, as well as being associated with two other nominations.
ViaStrada was named as a finalist for:
ViaStrada was also pleased to hear about Palmerston North City Council's naming as finalists for its Junior Road Safety Park (Built Excellence category) and Bikes in Schools programme (Bikes at Work and School Award category). We assisted PNCC with concept planning for the Road Safety Park, as well as recently reviewing and making recommendations on the Bikes in Schools programme. It is great to see these two projects helping to encourage young people cycling in the district.
The winners will be announced at the 2WALKandCYCLE Conference in Palmerston North at the end of July. Best of luck to all the finalists!