A cycle lane marking trial on Dunedin's Cumberland Street (State Highway 1) was undertaken. Non-standard road markings for cycle lanes were tested for their effectiveness. The purpose of this trial was to establish to what extent changed road markings can influence the relative positioning of parked vehicles and cyclists in an adjacent cycle lane. It was acknowledged that many cyclists may not be aware that their actual greatest mid-block risk stems from opening car doors, and they may consider themselves to be more at risk from moving traffic. As such, we measured whether changing the marking style can change behaviour without having to explicitly educate cyclists where best to cycle and motorists where to park. The desired effect was an increased separation between cyclists and parked vehicles.
The findings from an American study on parking discipline show that 30% of a widened parking lane will be taken up by decreased parking discipline, i.e. drivers park further from the kerb, and Dunedin data display this well. The reverse is also the case, as when drivers perceived the parking space to be narrower, they parked closer to the kerb. An increased length of parking duration corresponded to improved parking discipline. The data as collected do not support the hypothesis that a lip between the carriageway and channel results in reduced parking discipline.
The trial report is available on the NZTA website.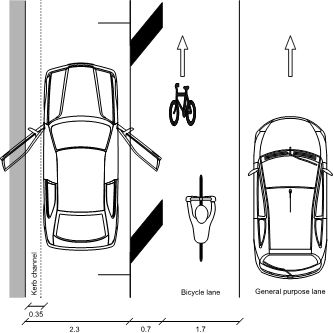 Where presented/published
Christchurch, 18 July 2014