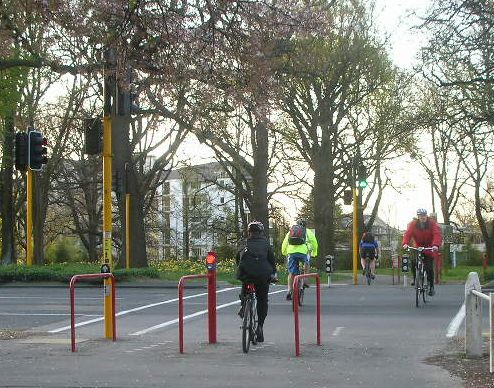 This video by ViaStrada director Axel Wilke demonstrates a signalised crossing for pedestrians and cyclists that previously had a poor traffic signal compliance by these user groups. The way the signals operate was fundamentally changed some years ago, and this short video explains in some detail how this was done. The effectiveness of the new operating concept is discussed and the following conclusions are drawn:
Responsive signals providing a good Level of Service (LOS) are key to good signal compliance,
A call accept feature gives cyclists confidence that 'something will happen soon', and
Separate signals for pedestrians and cyclists minimise the delay for motorists.
The target audience for this video is traffic signal engineers and other staff charged with the operation of road networks. Political decision makers, cycle advocates and members of the public will also be interested in the video.
Where presented/published
ViaStrada website knowledge sharing project (Oct 2010)