Background
Cycle lanes had been approved by North Shore City Council (NSCC) for installation on Lake Road between Esmonde Road and Hauraki Road, a distance of about 600 m. ViaStrada developed and reviewed alternative options for accommodating cyclists on this 23 m road corridor carrying four lanes of traffic.
Some 18 options were developed.  All options had some advantages and some disadvantages.  They made trade-offs amongst the various competing uses of road space on Lake Rd.  These uses included pedestrians, cycles, cars, trucks and buses.  Some design options would make it easier for drivers to turn right into driveways and side streets; others would restrict this facility.  Some would encourage higher motor vehicle speed.  Some would feel more comfortable for cyclists; some options would provide for off-road cycling on cycle paths while others would provide for cycling to be done on-street through cycle lanes.  Some options provided more space for pedestrians.
The project explored all reasonable options to re-allocate space on a busy road in favour of cyclists and the discussions of the merits of these options could be applicable in many other situations around New Zealand.  The full report is available here.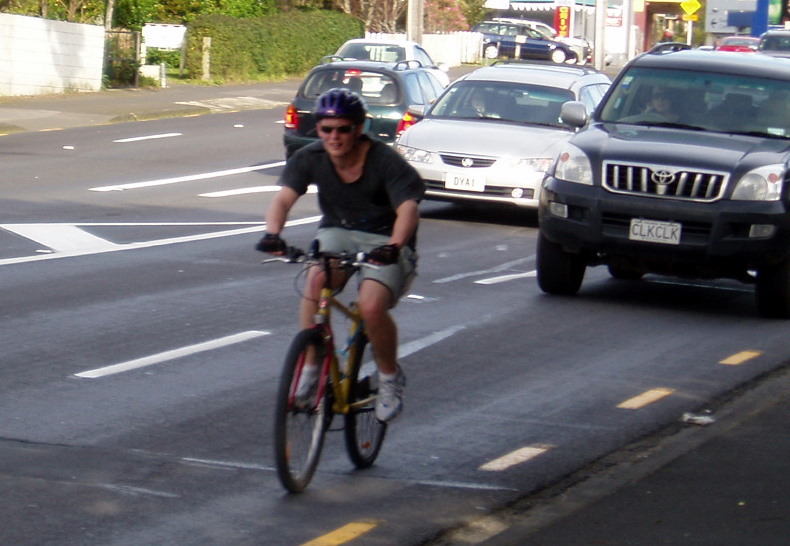 Chris Jones (NSCC Transport Programmes Manager) notes:  "This was a particularly challenging project because there were very short timeframes. ViaStrada exceeded expectations and delivered a significant number of options ahead of deadline. No single option could be chosen as there were significant constraints imposed by the designation of 2001 and various community issues with respect to expectations about footpath widths.
Several portions of land had also been purchased on the understanding that the cycle lanes would be located on road. After considering a staff report on the matter, the North Shore City Infrastructure and Environment Committee decided to opt for all green cycle lanes with a wider (and possibly textured) line marking. This is going to be considered as a trial for this approach.
The various configurations suggested in the report will be used as examples for consideration on future projects and will be used at a case study workshop for North Shore engineers in due course."
Key staff on this project were Andrew Macbeth, Rick Houghton, Axel Wilke and Warren Lloyd.
Project Objective
To develop a range of options for cycle facilities on a short, busy section of Lake Rd
Client
North Shore City Council
Location
North Shore, Auckland
Deliverable
25-page report on 18 options for Lake Rd cycle facilities
Project Status
Completed Nov 08