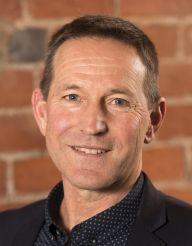 Role
Director – Principal Transportation Engineer
Biography
Warren has been active as a traffic and transport engineer in New Zealand since 1990. He commenced his professional career with Tauranga District Council (six years) then spent time with Christchurch City Council (ten years) with a focus on the city environment and its associated urban transport needs.
Warren's traffic engineering expertise is designing with form and function for all users, specifically focussing on the needs of pedestrians and cyclists or 'active transport' modes. His design experience includes all forms of streetscape design and intersection controls. He has specific design and analysis experience with intersections at grade including traffic signals and roundabouts. Warren also specialises in safety audit and crash reduction projects. He has experience with geometric design and auditing of rural roads and associated intersections.
As part of our commitment to professional development, Warren is an accredited trainer for the SIDRA INTERSECTION software where participants learn by doing. Every attendee obtains hands on experience with intersection modelling projects during the two day courses.
Since October 2005, Warren has been in the private sector providing expertise and experience to public and private sector clients locally and nationally as a Director of ViaStrada.