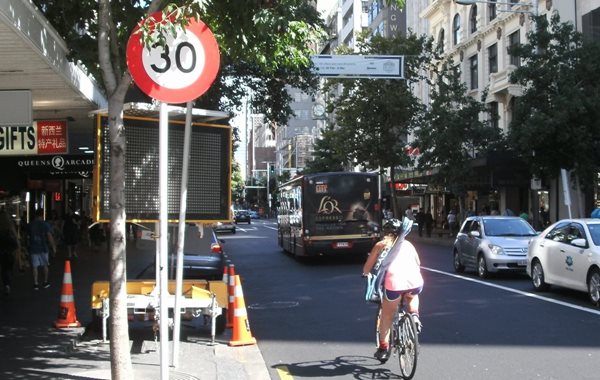 As a contributor to Safer Journeys and sustainable transport, there is growing interest in introducing lower speed environments to urban and rural areas of New Zealand, whether by posted speed limits and/or speed management (e.g. traffic calming). However, for many elected officials and practitioners, there is a limited understanding of the benefits that can be realised from lower speeds, and also concern about potential public backlash from introducing such initiatives.
Glen Koorey gave a presentation at the 2016 TRAFINZ Conference that provides an overview of the arguments for lower speeds in New Zealand, including the effects on safety, amenity, and encouragement of active modes. It also addresses some of the common objections and concerns voiced by some parties. These include:
Lower speed limits alone won't change traffic speeds
The real safety problem is poor drivers and poor roads
The public in New Zealand don't want lower speeds
Lowering speeds will greatly increase travel times
The Speed Setting Rules don't allow us to lower the speed limit
The presentation provides useful arguments to respond to (or even pre-empt) these points, with reference to relevant research as well. The importance of community-focused engagement (rather than motorist-centred engagement) is also highlighted. The presentation will also discuss potential "low hanging fruit" sites that could be trialled first to get the public used to the concept of lower speeds (e.g. near shops and schools). A copy of the presentation can be found here.
If you would like advice on speed management plans, contact Glen.
Where presented/published
TRAFINZ Conference 2016, 18 Nov, Tauranga, NZ