How wide should paths shared between pedestrians and cyclists be? Whilst these are common, very little guidance is available internationally. VicRoads wanted to know and engaged ViaStrada and SKM to undertake the research. Megan Fowler and Warren Lloyd (both ViaStrada) and Cameron Munro (SKM Melbourne) wrote a technical paper on this topic. This was presented as a poster (also shown below) at the IPENZ Transportation Conference in Christchurch in March 2010.
This research formed the basis to Cycle Note 21 that was previously published by VicRoads.
Abstract
Shared paths are off-road facilities for cyclists and pedestrians (including walkers, runners, skateboarders, mobility scooter users, people with pushchairs, etc). Despite the commonness of the shared path, little guidance on its design is currently available in terms of the width of paths in relation to the numbers of pedestrians and cyclists who use the path. The effects of mixing pedestrians and cyclists deserve careful consideration. The difference in speeds of the two modes, compounded by the bi-directional nature of shared paths, can reduce the level of service for all users if paths are not properly designed.
ViaStrada has recently undertaken significant research on behalf of VicRoads, the roading authority for Victoria, Australia, to determine appropriate path widths based on user types and volumes. An international literature review identified the Shared Use Path Level of Service (SUPLOS) calculator, commissioned by the USA's Federal Highways Administration (FWHA) as the most relevant method available. ViaStrada and SKM, Melbourne have since made several modifications to the original SUPLOS approach, including provision for tidal flows (i.e. different volumes in each direction of travel at different times of day) to make it more suitable for Australasian paths.
This paper details the investigations, tool development and ultimate conclusions of the research.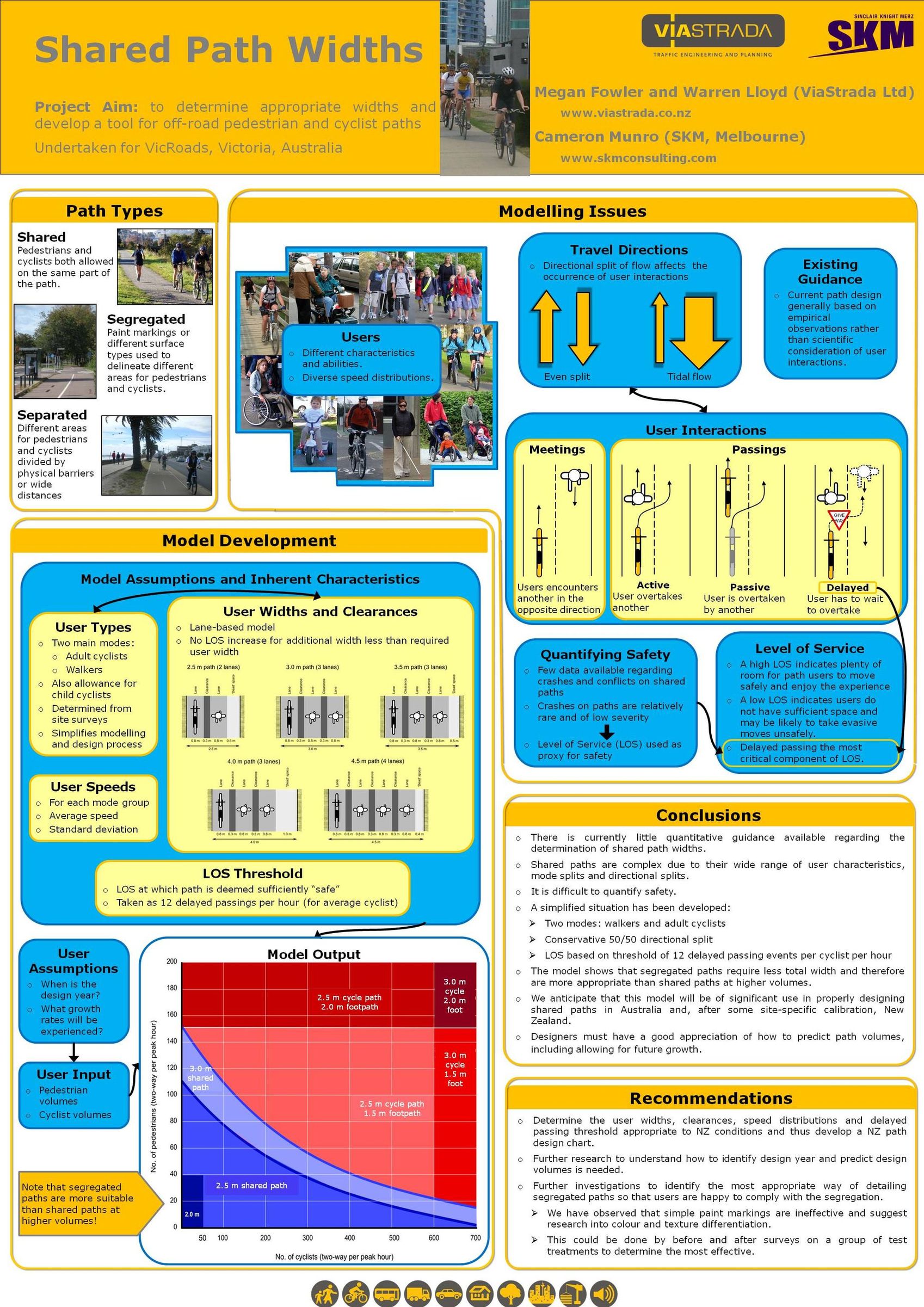 Where presented/published
IPENZ Transportation Conference