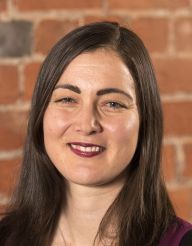 Last Name
Gregory (née Fowler)
Role
Senior Transportation Engineer
Biography
Megan Gregory (née Fowler), ME Cantuar, MEngNZ, completed her Bachelor of Engineering (Honours) and Masters of Engineering Transportation at the University of Canterbury and started her professional career with ViaStrada in 2007 (having also spent some time overseas and on maternity leave in the period since then). Megan's experience and key capabilities include:
Technical traffic engineering design – intersections and corridors for all transport modes
Technical guidance / training development – including the NZ Cycle Trail Design Guide, Cycling Network Guide and Planning and Design for Cycling industry training courses.
Research – including official Traffic Control Device trials according to the NZ Transport Agency's Traffic Note 10 procedures, as well as research on technical, legal and educational aspects relating to transportation for local, regional and national agencies.
Data analysis
Strategy development – especially walking and cycling strategies
Peer review and audit of others' designs, research or strategies
Report writing and presentation
Megan has received a number of accolades from the traffic engineering community, including for conference papers and presentations. In 2019, Megan's paper on an official traffic control device trial of directional traffic signals for cyclists was awarded best research paper. In 2016, Megan was awarded the IPENZ Transportation Group study award grant to investigate ways of addressing the conflict between cyclists and motor vehicles at signalised intersections with separated cycleways on the approach. This study involved research, visiting seven cities in the USA and Canada and range of outputs including a blog, a conference paper, Roundabout articles and related presentations on her findings. Megan has an ILR Level 3 (professional working proficiency) in French, which is useful when undertaking international literature reviews and corresponding with peers in French-speaking countries. She enjoys cycling for transportation and recreation and also walks, drives, and uses public transport, giving her a good understanding of the different requirements for people travelling by various modes.