Background
During 2014, ViaStrada investigated a network of connected shared paths on the southern side (left bank) of the Manawatu River in Palmerston North and the preliminary location of a new pedestrian cycle bridge across the Manawatu River.
There are three major commuting destinations south of the Manawatu River: Massey University, the Crown Research Institutes (CRIs), and Linton Army Camp. The primary objectives of the investigation were to establish a site for a future pedestrian and cycle bridge, and to determine a network of paths giving access to the various destinations. The network of shared paths was intended to provide for safe travel by cyclists and pedestrians, and this network would mostly be located on land controlled either by the army or the university. An additional bridge for walking and cycling had been a long-standing desire, and a major study was undertaken in 1999. For the 2014 investigation, unlike back in 1999, the geographic scope was downstream from the existing Fitzherbert Bridge only.
The paths have since progressively been built, and the bridge opened in June 2019.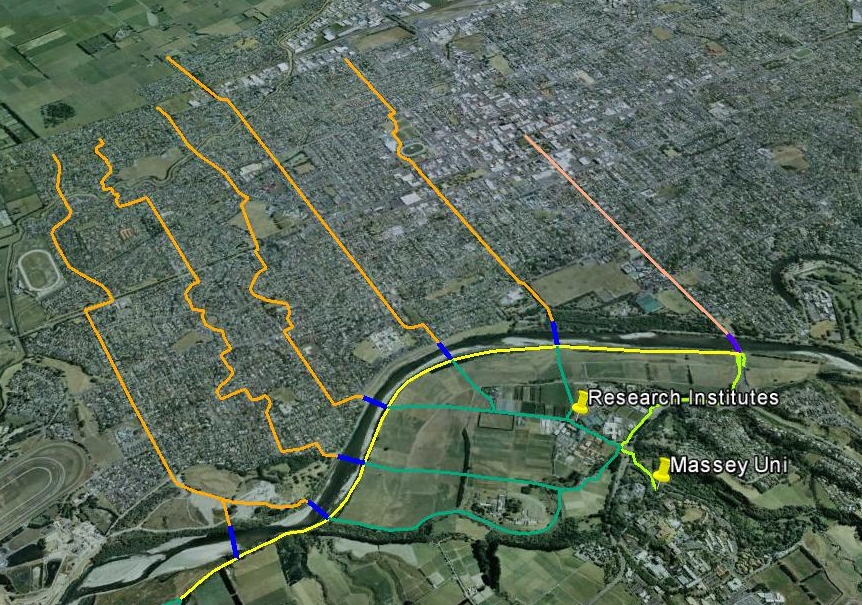 Project Objective
Investigate a network of shared paths on the south side of the Manawatu River and feasible locations for a bridge across the river
Client
Palmerston North City Council
Location
Palmerston North
Deliverable
Network plan; feasibility study
Timeframe
Oct 2013 - Jul 2014